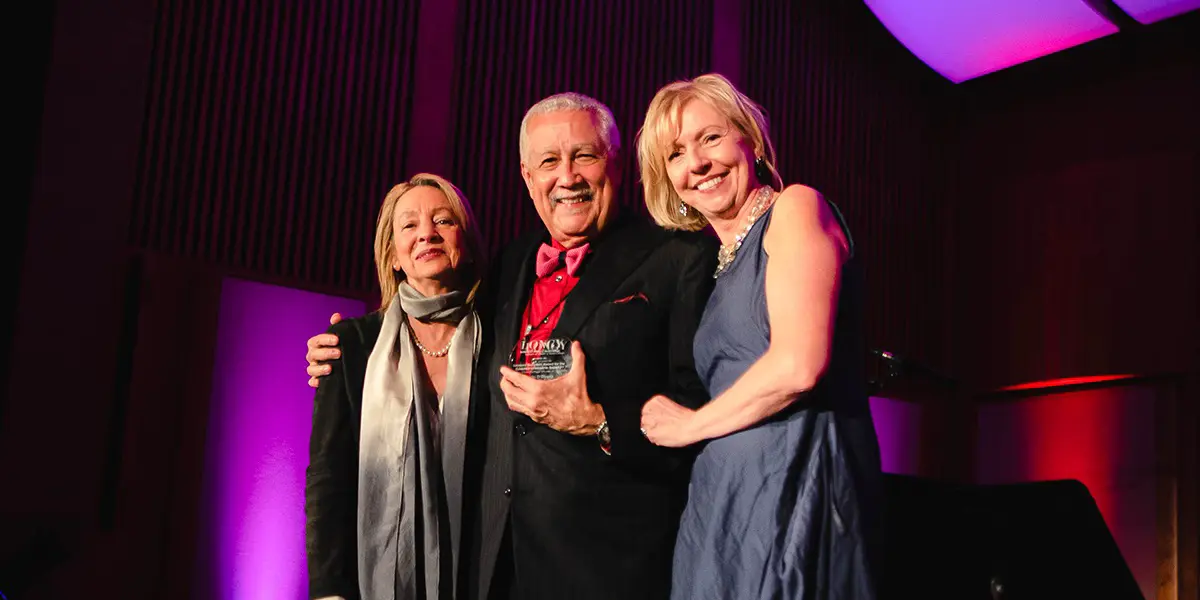 From left to right: Jane Bernstein, Paquito D'Rivera, Karen Zorn, photo credit: Longy School of Music
On April 21, 2023, at the Longy School of Music of Bard College in Cambridge, Massachusetts, Paquito D'Rivera received the Leonard Bernstein Award for Elevation of Music in Society.
The award was presented by Jamie Bernstein, daughter of Leonard Bernstein, during the school's Gala Benefit Concert. The gala was to benefit Equity Scholarships to open doors to musicians who are not traditionally represented in conservatory education.
Paquito D'Rivera also performed with a band comprised of Longy alumni as part of the Gala program.
"Thank you, Paquito D'Rivera, for championing the rights and liberties of artists around the world and exemplifying the Longy ideal that artists can make a difference!"

Longy School of Music
"I was so proud of accepting the prestigious Leonard Bernstein Award, delivered by his daughter Jamie Bernstein at the Longy Conservatory in Boston, an institution with the noble mission of 'Centering Music as Social Change Goals', a pretty interesting concept for someone coming from a country that had just 3 presidents in 64 years, none of them elected by their citizens, and whose campaign slogan bluntly proclaims 'We are Continuity' (¡somos continuidad!).

So, I must add that this award acquires even more importance for a person like me, whose name and music has been systematically banned on Cuban official media, as well as on the music school system, in a country that musicians like Maykel Osorbo and many other artists are beaten, repressed and incarcerated just for singing songs not authorized by the cultural authorities.

But in any case, I consider myself a lucky one after all. I was in good company, surrounded by open-minded teachers and students at Longy. Good people using music to change for an always possible better world."

Paquito D'Rivera