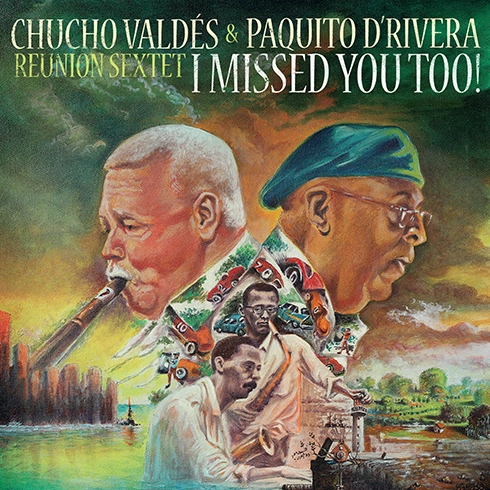 New Album – I Missed You Too!
Paquito D'Rivera, Chucho Valdés, and the Reunion Sextet
(Released July 22)
Paquito Records/Sunnyside
Making Up for Lost Time with a New Album
The history of the close friendship and shared musical adventures between pianist and composer Chucho Valdés and saxophonist, clarinetist, and composer Paquito D'Rivera goes back 60 years. But in recent decades, their paths rarely crossed. Chucho and Paquito are now making up for lost time with a new album, I Missed You Too, and a world tour.
In their reunion, they are accompanied by an extraordinary ensemble. It includes Diego Urcola on trumpet and valve trombone, Armando Gola on contrabass and electric bass, Dafnis Prieto on drums, and Roberto Jr. Vizcaino on percussion. The selected repertoire includes old hits, some of them already Latin Jazz standards, classics of the Latin American repertoire, and new compositions.
"I'm very proud of this reunion," said Paquito, in a conversation after a rehearsal at Chucho's home. "Chucho is part of my life. His father was very close friends with my father. Our friendship is something that goes back a long way. The first song Chucho wrote that became famous was called 'Indestructible.' That's our relationship: indestructible".
For his part, Chucho celebrated the reunion as "one of the happiest days of my life." "I've missed him," Chucho continued. "Paquito is part of my life. I played with his father, Tito, a great saxophonist, before I played with him. Paquito is family, and he's very important to me musically. There are many great musicians, but Paquito is unique."
Musicians
Chucho Valdés – piano
Paquito D'Rivera – alto saxophone, clarinet
Diego Urcola – trumpet, valve trombone
Dafnis Prieto – drums
José A. Gola – double & electric bass
Roberto Junior Vizcaino – percussion
Tracks
Mambo Influenciado by Chucho Valdés
Mozart a la Cubana by Chucho Valdés
I Missed You Too! by Paquito D'Rivera
Pac-Man by Hilario Durán
Claudia by Chucho Valdés
El Maja de Vento by Chucho Valdés and Paquito D'Rivera
El Día Que Me Quieras by Carlos Gardel