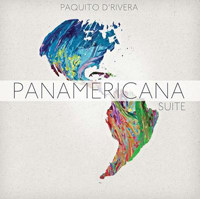 The Latin GRAMMY® Awards, on Sept. 14, has announced this year's nominees with Paquito D'Rivera receiving three nominations!
The three nominations are in two categories, with two albums for "Best Latin Jazz Album." Panamericana Suite (MCGJ 1026) is listed in two categories: "Best Latin Jazz Album" and "Best Classical Contemporary Composition." The third nomination Clazz: Continental Latin Jazz. Live At Barcelona, Teatre Paral.lel 2011 is also listed for "Best Latin Jazz Album."
Producer Marty Ashby, for Panamericana Suite with MCG Jazz label, commented "from refined Classical compositions to swinging jazz, Paquito takes the listener on a journey celebrating the multitude of Latin and World rhythms, connecting them with the best of jazz and classical traditions."
Paquito D'Rivera has previously received 9 GRAMMY awards from both the Latin GRAMMY and Annual GRAMMY awards spanning both Jazz and Classical music genres. His prestigious awards include: 2005 Jazz Master recipient from the National Endowment for the Arts; National Medal for the Arts; Living Jazz Legend Award from the Kennedy Center; to name a few (more awards listed at paquitodrivera.com).
The 12th Annual Latin GRAMMY® Awards will air on November 10, 2011 at the Mandalay Bay Events Center in Las Vegas, NV, broadcast live on the Univision Network from 8:00 – 11:00 p.m. ET/PT (7:00 p.m. Central).