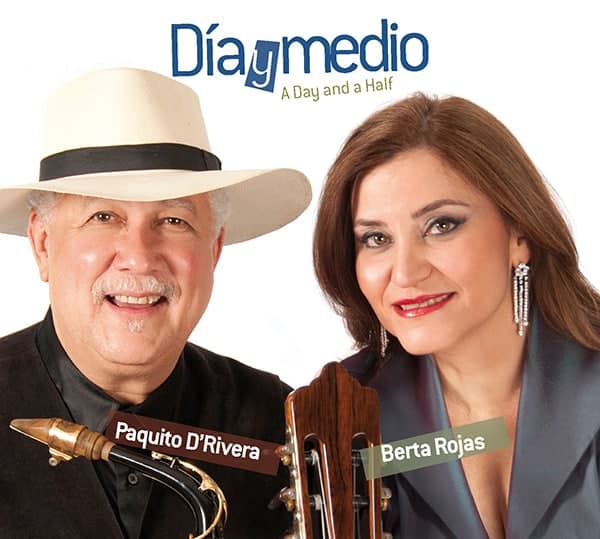 "For many years I wanted to collaborate with D'Rivera. The opportunity to partner with him has been a privilege, as it has offered me a chance to pay tribute to the rich music of my homeland. The CD allows us to showcase our recreations of Paraguayan compositions, many of which are considered hidden jewels of Latin American music."

Berta Rojas
Dia y Medio or "A Day and a Half" Idea Began with a Tour
"Día y medio," or "A Day and a Half," is the product of a musical union between these two masters who performed throughout Latin America in 2011. The tour included a day and a half stop – hence the title of the project — in Rojas' homeland of Paraguay. D'Rivera felt that was not enough time to appreciate fully all the beauty this small South American nation had to offer the world: its panoramic views, cultural richness, the warmth of its people — and its music. A tribute was born.
"I have been a great admirer of Berta's exquisite artistic ability for years," says D'Rivera. "When this extraordinary guitarist invited me to join her on this project in honor of fellow countryman Mangoré, with a repertoire from the master himself, and from other renowned Latin American composers, I felt as if I were dreaming. I felt as if the great Charlie Christian had invited me to perform, and record all of Duke Ellington's songs."

Paquito D'Rivera
Comprising 12 compositions, the musical project features instrumental pieces that offer a unique combination of Folk music from Paraguay, Jazz and the sounds of the classical guitar. The CD is dedicated to Paraguay and highlights music written by Paraguayan composers such as the great Agustín Pío Barrios Mangoré, one of the most accomplished guitar composers of all time. In addition, it showcases compositions by other Latin American artists like Mario Clavel from Argentina, who incorporated the native rhythm of Guarania of Paraguay in his music.
Performers:
Paquito D'Rivera – Alto Sax/ Clarinet
Berta Rojas – Classical Guitar
Tracks
Las Abejas
Maxixe
Recuerdos de Ypacarai
Pajaro Chogui – Galopera
Preludio en do Menor
Che Trompo Arasa (My Wooden Top)
Mis Noches Sin Ti (My Nights Without You)
Choli
Quisiera Ser (I'd Love to Be)
Ca'azapa
Choro da Saudade (Nostalgic Choro)
Danza Paraguaya (Paraguayan Dance)