The album entitled Fantasías Barcelónicas – Tribute to Paquito D'Rivera with the Barcelona Clarinet Players and Paquito D'Rivera, guest artist, is now available!
This fantastic album is entirely comprised of works by D'Rivera, adapted specifically for the Barcelona Clarinet Players. After having met the group and being informed they had adapted one of his works for their quartet, Paquito D'Rivera adapted several works for them to perform.
This excited the group and lead to a newly commissioned work for D'Rivera entitled "Fantasías Barcelónicas" in three movements for clarinet quartet. The premiere for the work happened last April at the Murchison Performing Arts Center located in the North Texas College of Music.
Due to the pandemic, the album's release was delayed. Fortunately, it is out now via Paquito Records and Sunnyside Records. D'Rivera and the Barcelona Clarinet Players hope to have a live performance of the new album in the coming months.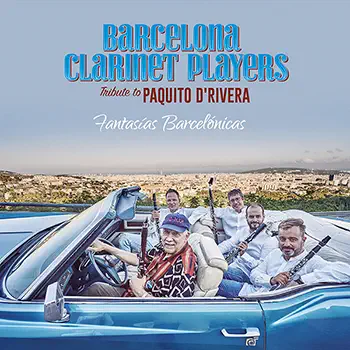 Fantasías Barcelónicas – Tribute to Paquito D'Rivera
Barcelona Clarinet Players
Featuring Paquito D'Rivera
Read more about the album.
The new work, "Fantasías Barcelónicas" for clarinet quartet, is available directly from Boosey and Hawkes.