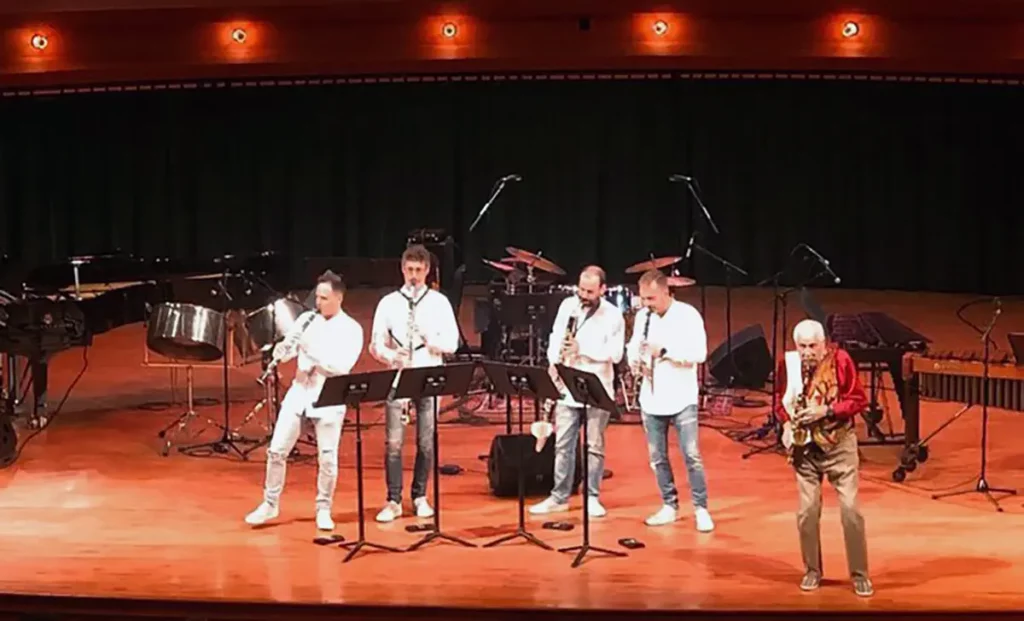 On April 6 at the Murchison Performing Arts Center at University of North Texas College of Music, audience members were treated to two performance groups at the concert.
The featured attraction, a Caribbean Jazz Project Tribute, was performed during the second half of the concert featuring Paquito D'Rivera, Andy Narell, Mark Walker, Ed Smith, Fred Sanders, and Josh Newburry.
The first half of the concert however was given by the Barcelona Clarinet Players, in town for two performances and a residency with the University of North Texas College of Music. The Barcelona Clarinet Players gave the audience a sneak preview of selections from their new album entitled Fantasías Barcelónicas – Tribute to Paquito D'Rivera.
The new album is comprised of compositions by Paquito D'Rivera and also has D'Rivera as guest artist. The featured work of the album, D'Rivera was commissioned by the group to write for clarinet quartet called "Fantasías Barcelónicas".
The upcoming CD lists the following works:
A Farewell Mambo
Monk-Tuno
Kites Over Havana
The Elephant and the Clown
Wapango
Cuban Sharks
La Fleur de Cayenne
Fantasias Barcelonicas: I. La Sombra Del Viento
Fantasias Barcelonicas: II. Mamblues Pal Tete
Fantasias Barcelonicas: III. Choro Gaudiano
Bachrinets
Artists on the album are:
Paquito D'Rivera – Alto Saxophone and Clarinet
Barcelona Clarinet Players:
Manuel Martinex – Clarinet
Javier Vilaplana – Clarinet
Marti Guastevi – Basset Horn
Alejandro Castillo – Bass Clarinet
(Update) The album is now available by Paquito Records and Sunnyside Records.
"Fantasías Barcelónicas" work is available now directly from Boosey & Hawkes.