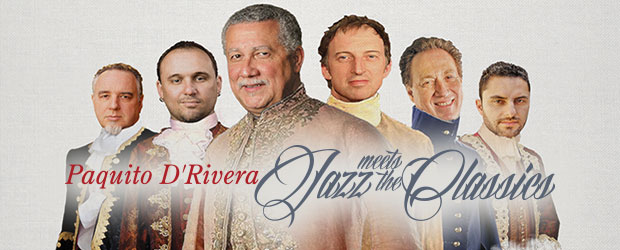 Jazz Meets the Classics. Release date: August 5, 2014, Paquito D'Rivera Sextet, Sunnyside Records/Paquito Records.
Hear Two Sample Tracks
The border between classical and jazz music has always been a fluid one, with composers from each camp finding inspiration on both sides of the divide.
The Grammy Award winning woodwind master Paquito D'Rivera has a long history with classical music. As a young boy, he was introduced to a wide variety of music, from Mozart to Ellington, by his classical saxophone playing father in Cuba. On his new recording – Jazz Meets the Classics, D'Rivera and his wonderful ensemble have recorded intriguing arrangements of the classical repertoire of legendary composers, including Chopin, Beethoven and Mozart, for a jazz sextet.
For the recording, D'Rivera assembled a sextet of his regular collaborators, all astonishing musicians in their own right: trumpeter/trombonist Diego Urcola, pianist Alex Brown, bassist Oscar Stagnaro, percussionist Arturo Stable, and drummer Mark Walker. Special guest pianist Pepe Rivero was also featured on two arrangements of Chopin and an original piece that he wrote for the ensemble.
An invigorating blend of influences that have made Paquito D'Rivera the musician he is today inform the music on Jazz Meets the Classics. The mixture of jazz, classical and Afro-Latin traditions into a cohesive whole is wonderfully executed by the leader and his phenomenal sextet.
The ensemble convened and recorded the album live at Dizzy's Club Coca-Cola in New York City on June 14, 2012. Produced by Paquito Records, distributed by Sunnyside Records.
Available from iTunes and other fine vendors. Read more information about the album.