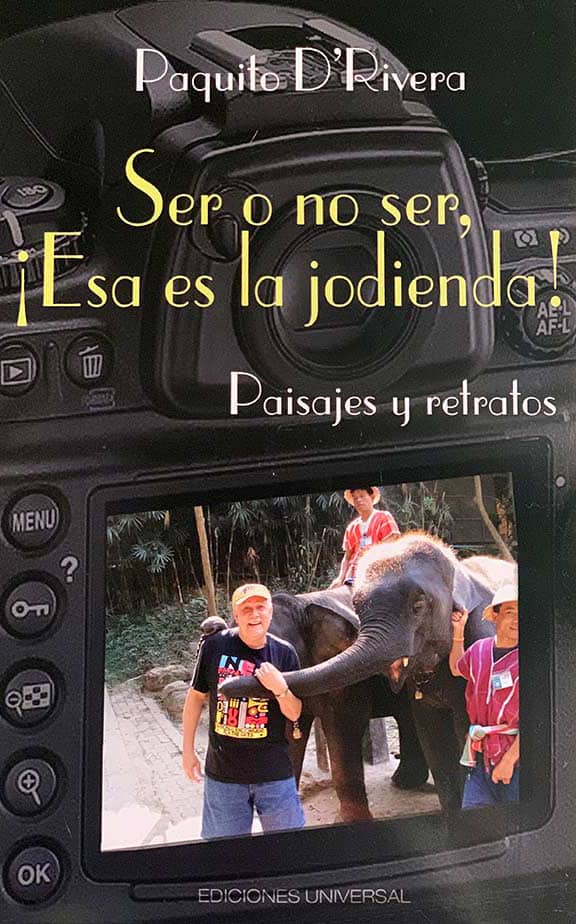 The book "Ser o No Ser" by Paquito D'Rivera is available now to fans. In learning the publisher was going out of business, Paquito was able to obtain the remaining stock. The supply is limited, so we are offering this only through the website directly to fans.
The book was published in Spanish in 2010 by Ediciones Universal. Paquito tells of his travels and adventures worldwide in his humoristic style. The front cover shows a picture with Paquito in Thailand posing with an elephant and is 352 pages long.
To get the book, order through the website online. Order now with the coupon "fans" and get $5 off the book (while supplies last).
(Available only in Spanish)
Libro agotado disponible ahora para los fanáticos de Paquito D'Rivera
El libro "Ser o No Ser" de Paquito D'Rivera ya está disponible para los fanáticos. Al enterarse de que el editor estaba cerrando, Paquito pudo obtener el stock restante. El suministro es limitado, por lo que estamos ofreciendo esto solo a través del sitio web directamente a los fanáticos.
El libro fue publicado en español en 2010 por Ediciones Universal. Paquito cuenta sus viajes y aventuras por todo el mundo en su estilo humorístico. La portada muestra una foto con Paquito en Tailandia posando con un elefante y tiene 352 páginas.
Para obtener el libro, ordene a través del sitio web en línea. Ordene ahora con el cupón "fans" y obtenga $5 de descuento en el libro (hasta agotar existencias).