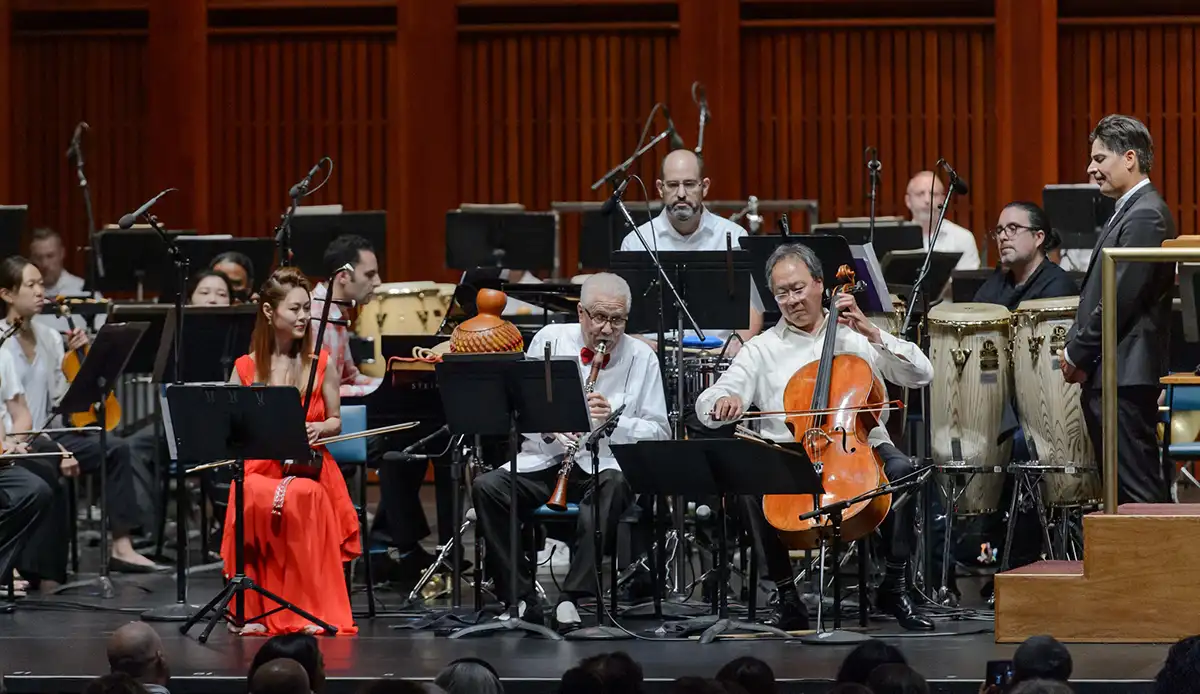 (Pictured: Cathy Yang, ehru, Paquito D'Rivera, clarinet, Yo-Yo Ma, cello, with the National Symphony.)
On September 8, at Wolf Trap's Feline Center in Vienna, VA, Paquito D'Rivera's new work, The Journey, was premiered. The piece was commissioned by the National Symphony Orchestra and Wolf Trap Foundation for orchestra and three solo instruments. Long-time friends Yo-Yo Ma (cello) and Paquito D'Rivera (clarinet) were joined by Cathy Yang (on ehru) were the featured soloists with the orchestra.
Leading the program to a packed house was Jose Luis Gomez, guest conductor for the concert, and critically acclaimed Music Director of the Tucson Symphony. Other works included in the program were D'Rivera's "The Elephant and the Clown", Gershwin's "Cuban Overture", Arturo Marquez's "Danzon No. 2", and West Side Story.
"…the night was transfixing. The NSO layered sound beautifully, Ma, D'Rivera, and Yang infused their energy into every note, and Gomez connected the audience to the depth of the music…a brilliant program."

"As can be surmised by the event title, the concerto carried the program… The entire program was excellent and deserved all three of the standing ovations…"
Keley Beins, MD Theatre Guide
D'Rivera spoke to the audience giving some background of the piece, about Ma and D'Rivera's past work, and what led them to that moment. The Journey is a three movement concerto for clarinet and cello, with piano, erhu, two Latinamerican percussionists, and symphony orchestra. The works is based on Afrocuban and Latinamerican rhythms with Jazz and Chinese elements. Also, he remarked that September 8 is la Caridad del Cobre, the Patron Saint of Cuba Day.
Yo-Yo Ma and Paquito D'Rivera, Cathy Yang performed an encore called "Danzon" and was accompanied by pianist Alex Brown and percussionist Samuel Torres. The work was recorded during one of their rehearsals and is now available on YouTube.
D'Rivera has written many works for orchestra and chamber groups and is solely available by music publisher Boosey & Hawkes.