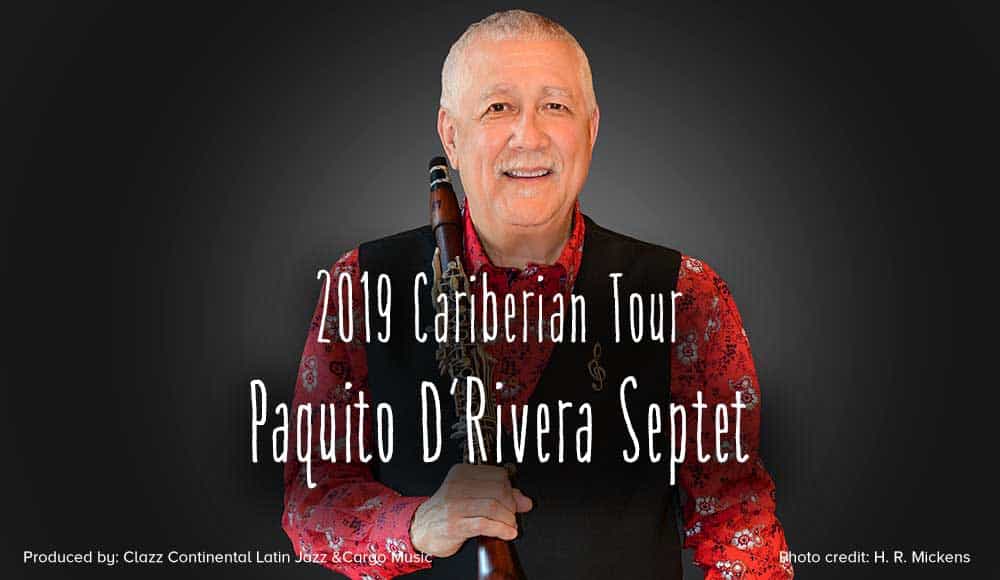 Produced by Cargo Music and CLAZZ Continental Latin Jazz
Paquito D'Rivera is the maestro of the clarinet and the saxophone, Cuban by birth, New Yorker by adoption, lover of everything that has to do with Spain, and citizen of any place that takes him to enrich the world with his music. This summer he will begin a tour that will pass into history: the Cariberian Tour with the Paquito D'Rivera Septet. The repertoire is rooted in the Iberian Peninsula that he loves so much, accompanied by Pepe Rivero, El Negron, Michael Olivera, Manuel Machado, Yuvisney Aguilar, and David Tavares.
Undoubtedly, Paquito is the number one clarinetist and saxophonist of the current world panorama of Latin Jazz. Cargo Music from CLAZZ is honored and proud of having Paquito D'Rivera as the official godfather of our first festival in Madrid and Barcelona in 2011, and continuing into Spain and Europe in 2018.
Today, the maestro is preparing new repertoire for the new 2019 tour, Cariberian Tour by CLAZZ. The music fans of the universal Cuban will not only enjoy but will be surprised when they listen to pieces of the classic Spanish repertoire of Falla, Albeniz, Rodrigo, and Tarrega in the key of Latin jazz.
(Translated from tour announcement at Clazz Continental Latin Jazz.)
Program arrangements include:
Andalucia (Lecuona)
Concierto de Aranjuez (Rodrigo)
Recuerdos de la Alhambra (Tarrega)
Fragmento de El Sombrero de 3 Picos (Falla)
Fragmento de la Suite Iberia (Albeniz)
The Cariberian Tour spans the Canary Islands, eight cities in Spain including Madrid, St. Moritz in Switzerland, London, and Paris. Check the full schedule below.
Tour Locations