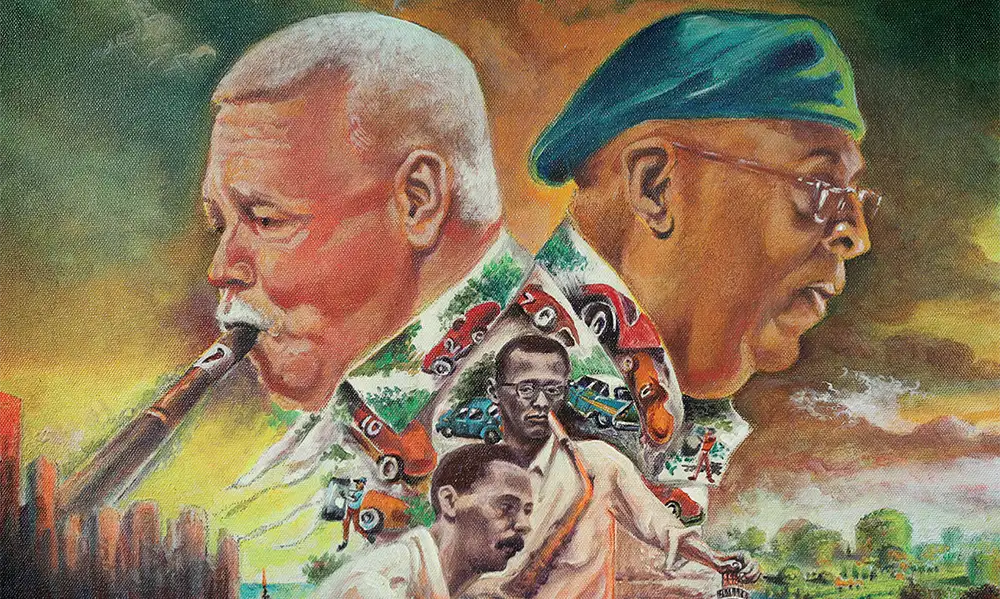 July 22, 2022 – Just released is the album reuniting Paquito D'Rivera and Chucho Valdés entitled I Missed You Too!
A Friendship Spanning 60 Years
The history of the close friendship and shared musical adventures between pianist and composer Chucho Valdés and saxophonist, clarinetist, and composer Paquito D'Rivera goes back 60 years. But in recent decades, their paths rarely crossed. Chucho and Paquito are now making up for lost time with a new album, I Missed You Too, and a world tour.
They began their musical partnership as members of the Musical Theater Orchestra in Havana, and the fabled all-star Orquesta Cubana de Musica Moderna (Cuban Orchestra of Modern Music) which D'Rivera conducted for a few years. From then on, they were musically inseparable (Paquito made his first professional recording on Chucho's first album: Jesús Valdés y su Combo).
In 1973, Chucho founded the small big band Irakere, which played a powerful fusion of jazz, classical, rock, and Afro-Cuban music. It was a transcendental development in Latin Jazz. Paquito, an original member of the group, was a key figure. "Paquito was the heart of Irakere," said Chucho.
Life After Irakere
In 1980, Paquito went into exile in Madrid. Soon after, he moved to New York and began a new life there. Chucho remained with Irakere, but in 1998, seeking more opportunities for his talents as a pianist, he embarked on a parallel career, leading small groups and appearing solo. In 2005, Chucho finally left Irakere. For years, he lived between Havana and Malaga, where his late father, the great pianist and bandleader Bebo Valdés, had settled. In 2010, Chucho and his family moved to South Florida.
Much has happened in their musical lives since the days of Irakere.
Chucho reinvented himself, leading trios and quartets and becoming a solo pianist. Last October 9, he celebrated his 80th birthday by working on La Creación, a three-movement suite for a small ensemble, voices, and big band. The work had its world premiere on November 5 at the Adrienne Arsht Center for the Performing Arts in Miami and was later performed in Lyon, Paris, and Barcelona.
For his part, Paquito developed a successful career as a bandleader and composer. In 2005, his work earned him recognition as a Jazz Master from the U.S. National Endowment for the Arts. But Paquito also maintained his passion for classical music, receiving a Guggenheim Fellowship and commissions for string quartets, chamber groups, and symphony orchestras. Among five of his premieres this year includes the upcoming concerto, The Journey for Cello, Clarinet and Orchestra with Paquito D'Rivera (clarinet), Yo-Yo Ma (cello), and the National Symphony Orchestra. The work is the second commission by the National Symphony Orchestra.
These days, Chucho and Paquito have turned their attention to their reunion, an event that carries a deep meaning for them, both musically and personally.
"You don't have to be [physically] close to a person to feel close," Paquito said, reflecting on the years in which the old friends did not see each other. "Heck, there are people who are married and don't have such a close relationship. We were born to be close, even at a distance."
Sitting next to him, Chucho listened with a faint smile and nodded silently.
"I've always had the hope of being close to Paquito again and playing with him again," he said. "I've always had that hope. Well, this is our moment."
Ensemble Members of I Missed You Too!
In their reunion, they are accompanied by an extraordinary ensemble. It includes Diego Urcola on trumpet and valve trombone, Armando Gola on contrabass and electric bass, Dafnis Prieto on drums, and Roberto Jr. Vizcaino on percussion. The selected repertoire includes old hits, some of them already Latin Jazz standards, classics of the Latin American repertoire, and new compositions.
Watch a recent performance from their world tour in Puerto Rico.