With concert venues opening back up in 2022, it has been a time of catch up, especially for Paquito D'Rivera composition premieres! The year isn't finished yet, but it has been quite busy.
The Journey for Cello, Clarinet and Orchestra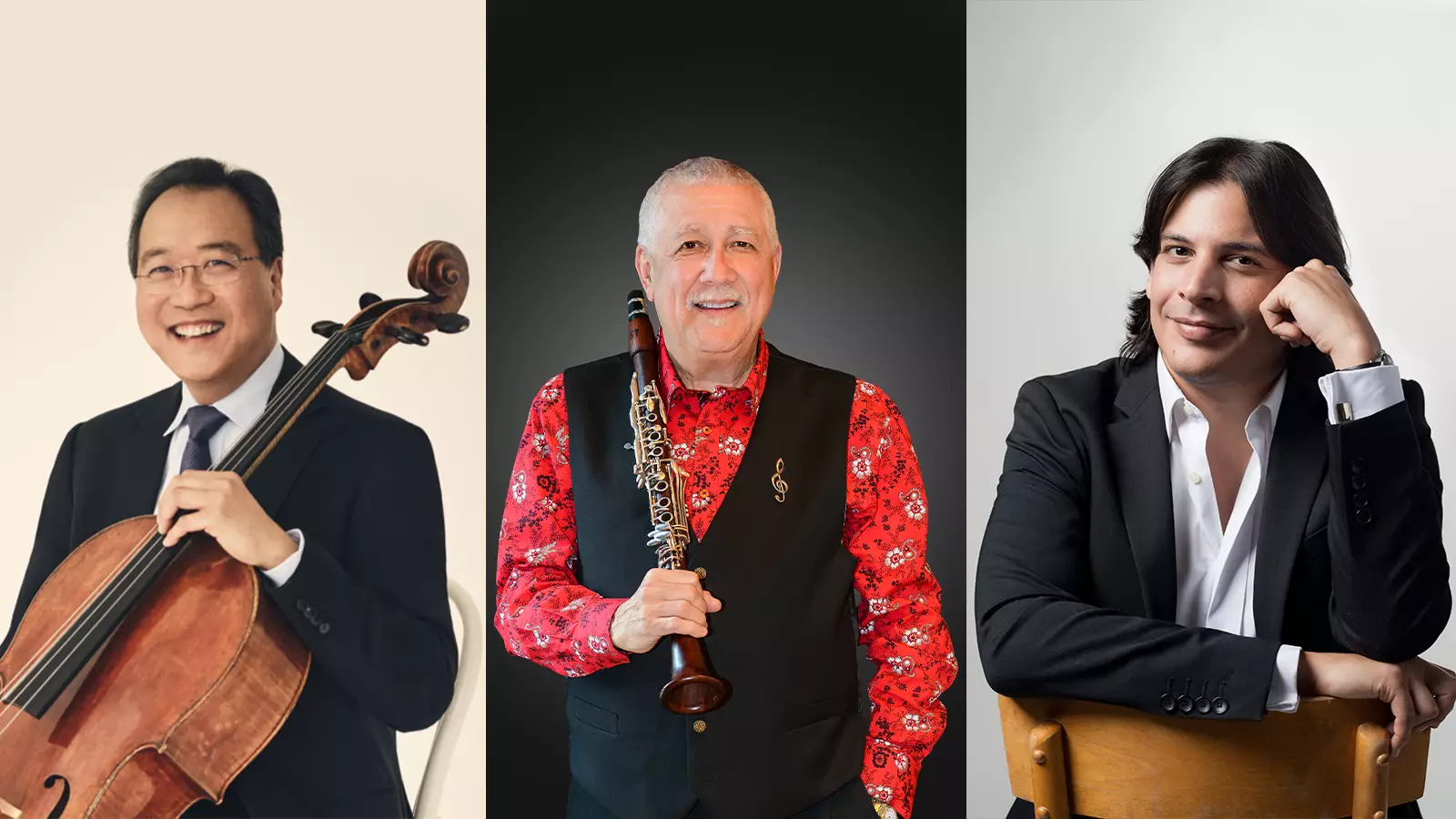 On September 8, Yo-Yo Ma (cello), and Paquito D'Rivera (clarinet), will be performing the world premiere of The Journey for Cello, Clarinet and Orchestra with the National Symphony Orchestra, Jose Luis Gomez conducting. The performance will take place at the Filene Center at Wolf Trap in Vienna, Virginia. Concert Information.
Concerto Venezolano for Trumpet and Orchestra
The Concerto Venezolano was specifically commissioned as part of a worldwide project to expand the trumpet repertoire. The piece was written specifically for the versatility of trumpeter Pacho Flores. Premieres were scheduled for four orchestras participating in the commission project beginning in September 2019, but the following premieres in 2020 were delayed until 2022. Read more…
African Tales
On April 1 at Michigan State University, six compositions for chamber groups were premiered including D'Rivera's new "African Tales". The work is for clarinet and cello and was performed by Tasha Warren and Dave Eggar.
The work was also recorded on the album Ourself Behind Ourself, Concealed.
Fantasias Barcelonicas
The Barcelona Clarinet Players on April 6, premiered D'Rivera's "Fantasías Barcelónicas" for clarinet quartet at a joint concert in the Murchison Performing Arts Center at the University of North Texas. They also gave a sneak peak of their new album with the same title!
The Fantasías Barcelónicas – Tribute to Paquito D'Rivera album by the Barcelona Clarinet Players is out this summer. The composition is available directly from Boosey and Hawkes.
Caribbean Berceuse for Clarinet Quartet and Wind Symphony
Barcelona Clarinet Players with the North Texas State Wind Symphony in premiere of Caribbean Berceuse
On April 7, the Barcelona Clarinet Players joined with the North Texas State Wind Symphony in the commissioned premiere of "Caribbean Berceuse" by Paquito D'Rivera. The composition is now available directly from Boosey & Hawkes.