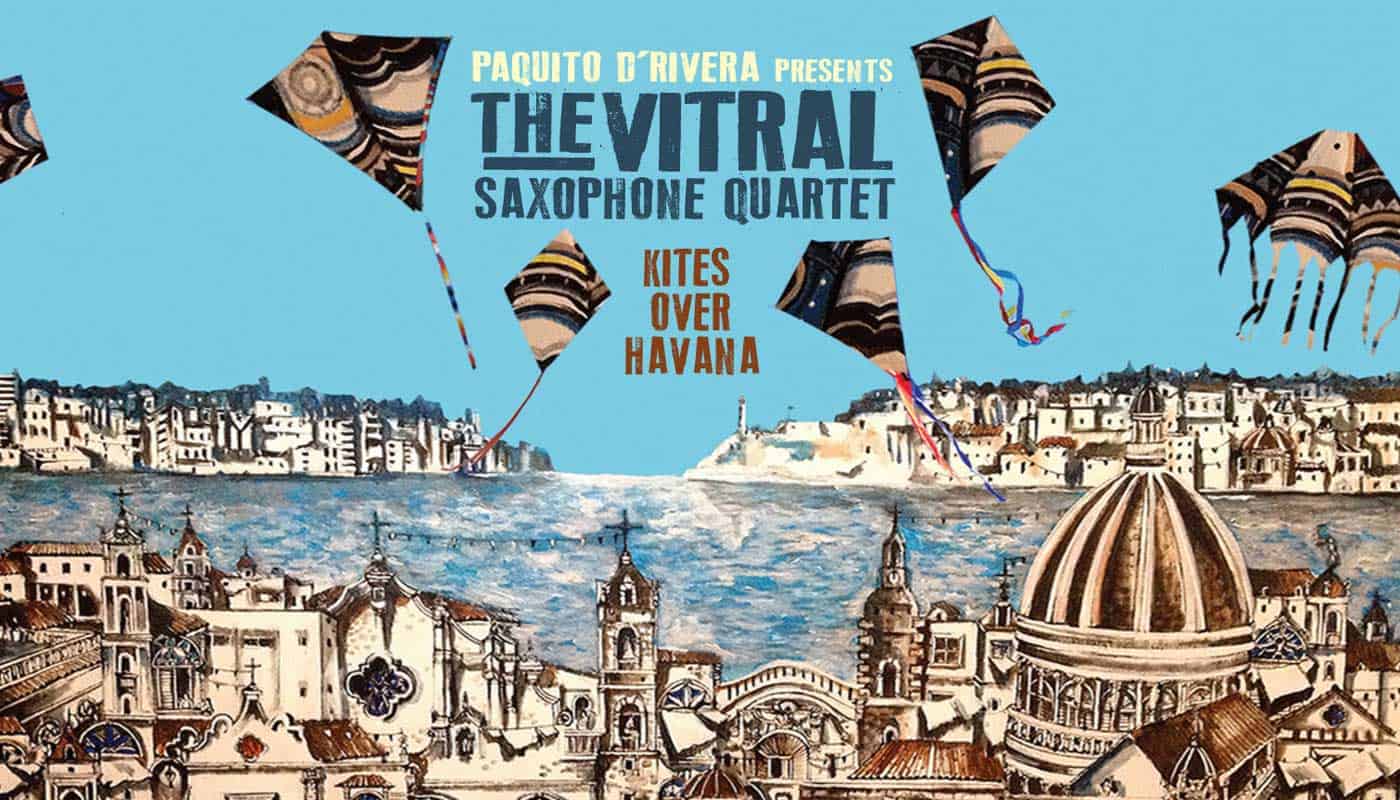 Paquito D'Rivera is proud to present the Vitral Saxophone Quartet and their new recording, Kites Over Havana.
For all that it has done in the world of jazz, blues, and rock, it is easy to forget that the saxophone was created as a classical instrument. There is a proud history of chamber music for saxophone stemming from Cuba. In 1943, Cuban saxophonist Tito D'Rivera established his saxophone chamber group called Conjunto Sinfonico de Saxofones, in Havana. Over seventy years later, D'Rivera's son, continues the tradition with an all Cuban saxophone quartet, joining them as both as a participant and composer.
Members of the Vitral Saxophone Quartet
The terrific Vitral Saxophone Quartet is composed of four Cuban master saxophonists who all now live in the United States: Oscar Gongora on soprano, Roman Filiu on alto and soprano, Alejandro Rios on alto and tenor and Raul Cordies on baritone saxophone. The recording also features a handful of impressive guests, including Yosvany Terry on tenor and shekere, Dr. Paul Cohen on C melody saxophone, Dr. Adonis Gonzalez on piano and Paquito D'Rivera, himself, on clarinet and soprano saxophone.
Compositions
The compositions presented on Kites Over Havana are a mixture of contemporary works including Paquito D'Rivera; Roman Filiu; Gabriel Seanes; Aldemaro Romero; and three pieces by legendary Cuban composer and violinist extraordinaire, Alejandro Garcia Caturla.
Kites Over Havana is a recording of Paquito Records and Sunnyside Records, and is available on iTunes, Bandcamp, and other fine vendors.